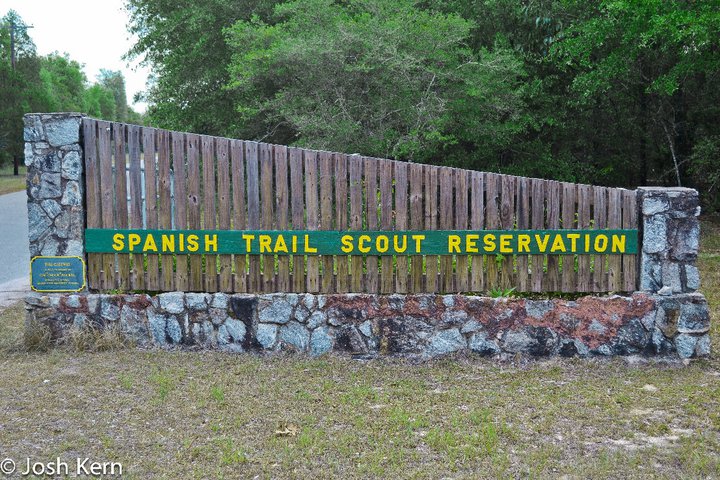 About STSR:
Since 1961, Spanish Trail Scout Reservation has served the scouts of the Gulf Coast Council. With over 1400 acres, STSR is one of the largest camps in the southeast. It offers a full range of facilities: a 40-acre lake for swimming, canoeing, and fishing; a dining hall; and numerous places to camp.
In addition to being available for scout groups, STSR is used on a year-round basis for Cub Scout Activities, Webelos Weekends, Family Camps, Woodbadge, District Camporees, and of course, Summer Camp.
Individual units are encouraged to make use of the campgrounds during non-event weekends. Units must complete a camping reservation form in addition to a tour permit. The camping reservation form also permits the use of family cabins and canoe rentals. If available, canoes and trailers may be rented for offsite use by units, using the Canoe Equipment Rental Form.
Click Here for the Camping Facilities and Equipment Request Form.
Summer Camp:
STSR has been the highlight of many boys' Scouting year for over 40 years. We begin by selecting a high-caliber staff of young men and adults, and giving them literally hundreds of hours of training. We strive to add new and exciting opportunities every year. For instance, we began Euchee Tech, which gave scouts the chance to be a DJ at an actual radio station broadcasting from Camp Euchee. In addition to traditional merit badges like Camping and Canoeing, scouts also had the chance to take cutting-edge merit badges like Electricity and Electronics.
Directions to Camp:
Click Here for Directions. Powered by Google.
Summer Camp Promo Video:
Click Here for the Camp Promo Video.